Intro
Do you have $2000,00 to spend on an indoor exercise bike? I'm guessing not, right? Well, don't worry because you're not alone; the vast majority of people don't have that kind of money to spend on a stationary bike.
That's where the Sunny Health & Fitness SF-B1423 Belt Drive Indoor Cycling Bike comes into play; it is cost-effective, durable, and perfect for beginner fitness users. But that's not all; even if you're an experienced fitness buff, the SF-B1423 is well made and has a heavy flywheel providing a calorie-busting workout.
The belt drive resistance system is much smoother than many of its competitors, which will make your family members happy knowing that they don't need to listen to a noisy annoying fitness bike.
Since the COVID pandemic has swept through the globe, many people have been forced to start working out from home. The home fitness niche is booming in popularity as people realize getting fit from home can be enjoyable, challenging, and convenient without paying those costly monthly gym fees.
So if you're after an affordable exercise budget to help you get started on your fitness journey, this in-depth review of the Sunny Health & Fitness SF-B1423 Belt Drive Indoor Cycling Bike is for you.
SF-B1423: What I liked & What Could Be Better
The Sunny Health & Fitness SF-B1423 Belt Drive Indoor Cycling Bike is an affordable model that's been released by the renowned Sunny Health and Fitness company. The bike itself might surprise you because although it's at the lower end of the price scale, the features and build quality would suggest otherwise.
The flywheel is one of the most important components of any stationary exercise bike, and the flywheel on the SF- B1423 doesn't let you down. Weighing in at a whopping 40lbs, the bike provides a smooth, silent, and solid ride, which is impressive, particularly considering the bike is priced at $309,99.
The frame is incredibly well built for the price and provides users with a confident and robust riding experience, especially when pushing down hard on the pedals. But it's not just all positives, obviously, the bike is lacking many of the features you'd get if you purchased a more expensive bike from the Sunny Health and Fitness lineup. Features like an LCD console, Bluetooth connectivity, and access to the SuynnyFit app are missing.
SF-B1423 Detailed Review
Sunny Indoor Cycling Bike (SF-B1423)
4.4
This stationary bike has a heavy-duty steel frame with bottle holder and press down braking system with adjustable resistance provide a safe, efficient, versatile indoor exercise cycling workout
Specifications
Price $309,99
Max User Weight 265 lbs or 120kgs
Dimensions 47L X 20W X 48H In
Resistance System Felt Pad
Display Calories, Distance, Speed, Time, Scan
Warranty 3 Year Structural Frame, 180 Days Other Parts And Components
Shipping Weight 106.5 Lb or 48kgs
Device Holder Yes
Flywheel Weight 40lbs or 18kgs
Connectivity and Apps
The Sunny Health & Fitness SF-B1423 Belt Drive Indoor Cycling Bike is priced at the lower end of the price spectrum and as such you are missing out on a lot of the technological advancements like the direct connection to the SunnyFit App and other tracking metrics like heartrate, power and speed, and RPM. However, the team at Sunny Health and Fitness goes above and beyond though, and although the display does give limited feedback, you can buy the Sunny Cadence Sensor to accurately estimate and track your workout data with the SunnyFit App, such as your RPM and speed.
No Bluetooth connection? No problem! You can use the Sunny Cadence Sensor to Sync to the Sunny Fit App or track your Cadence / RPM!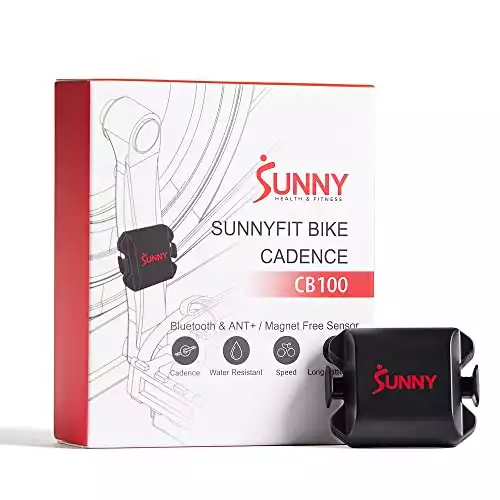 Sunny Health 2-in-1 Cadence / RPM + Speed Sensor (CB100)
4.6
Sync to your phone, tablet, or other mobile devices through Bluetooth or ANT+ wireless connectivity technology. Track and view your data all in real-time by connecting it to the Sunny Health & Fitness APP.
So if you're looking for a bike that's loaded with all the tech, then this bike is not for you. That being said, this bike is not targeted toward the high-end user, rather, it's targeted towards the beginner or the user who is on a limited budget. The ride quality is excellent, however, and you do have a small display that shows data like speed, distance, time, and, most importantly, calories burned.
Build Quality
The build quality is second to none; yep, that's right, even though the bike is only $300,00, the brand places emphasis on durable and lightweight materials. The bike has a 3-year warranty which goes a long way in providing the user with confidence knowing that the frame and components are well-built and designed to last.
Resistance System
The resistance system used by the Sunny Health & Fitness SF-B1423 Belt Drive Indoor Cycling Bike is not your high-end magnetic type. Instead, the bike utilizes a felt pad, which is less than ideal. Although smooth, the ride can be a bit jerky at times, especially when pushing hard on the pedals.
Another downside is the felt pads will also need to be replaced every 12 to 24 months, depending on how often you use the bike. The flywheel is heavy, weighing 40bls which does help to alleviate some of the jerky movements from the riding experience.
If you are looking for a smoother and quieter ride, then I recommend purchasing another one of the more expensive bikes in the Sunny Health and Fitness range.
Comfort
Comfort is an essential factor to consider, especially if you plan on doing longer workouts, between 60 and 120 minutes. The seat is 4-way adjustable, so you can adjust it up and down, forward, and back. The handlebars are two adjustable and are padded with comfortable foam making them comfortable on longer rides.
Display Monitor
Let's be honest, for $300,00 you can't expect a 26" inch LCD screen with all the latest in technologies and bells and whistles. The SF-B1423 does come equipped with a small screen that displays critical ride data and metrics such as time, speed, distance, calories, and a button that gives you the ability to scan through the data.
Pedals
The pedals on any bike are super critical to the performance and safety of your riding experience. The Sunny Health & Fitness SF-B1423 Belt Drive Indoor Cycling Bike comes fully equipped with caged pedals that really allow the user to smash down on the pedals without having to worry about their feet slipping, which could result in less than effective performance and quite possibly injury.
Usability
The seat, handlebars, and resistance are all incredibly easy to adjust with the twist-knob system that is painted in bright red. Just a few simple turns of the knob, and you can change the resistance levels to suit your workout needs.
Adjustability
If you're new to riding, you'll want to make sure the bike you purchase is fully adjustable in terms of seating and handlebars. Unfortunately, the Sunny Health & Fitness SF-B1423 Belt Drive Indoor Cycling Bike has limited adjustability, which is not enough to be a deal-breaker, but it is a factor you should consider.
Sunny Health and Fitness do not provide minimum and maximum rider heights, so I spent some time scouring through the reviews across a number of different sites. I found a verified user who was 6'5" and another who was 5'2."
Because the handlebars on the SF-B1423 are only adjustable vertically, it could be a challenge for smaller riders to reach the handlebars; in fact, if you're 5'2" or smaller I would not recommend this bike.
Assembly
When it comes to assembling bikes, it can be a daunting task, particularly if you're taking the job on by yourself. Still, with the Sunny Health & Fitness SF-B1423 Belt Drive Indoor Cycling Bike, you don't need to worry because the bike comes almost entirely assembled.
However, you do need to put the handlebars together, but the instructions are very clear, and it shouldn't take any more than 30-45 minutes to put together. I've actually assembled many bikes for our tests and reviews, and this was probably in the top 3 or 4 easiest.
Warranty
One thing Sunny Health and Fitness are renowned for is its excellent warranty and customer service. The Sunny Health & Fitness SF-B1423 Belt Drive Indoor Cycling Bike
Comes with a fantastic 3-year structural frame and 180 days of other parts and Components.
Many companies in the fitness industry only offer 12-month warranties, so it's great to see a company putting its reputation on the line and standing behind its manufacturing products.
Comparison with Other Alternatives
Check out our comparison table for an easy overview of the features that you get and those you don't.
| | SF-B1423 | SF-B1995 | SF-B901 | SF-B1002 |
| --- | --- | --- | --- | --- |
| Price | $309,99 | $359,99 | $329,98 | $398,99 |
| Resistance | Felt pad | Felt pad | Felt pad | Leather pad |
| Display | Yes | Yes | No | No |
| User Weight | 265lbs | 275 lbs | 275 lbs | 275 lbs |
| Dimensions | 47L X 20W X 48H In | 49.5L X 20W X 49H In | 46.5L X 18W X 46H In | 53.94L X 19.1W X 44.49H In |
| Weight | 92 lbs | 99.4 lbs | 102 lbs | 110 lbs |
| Warranty | 3 years | 3 years | 3 years | 3 years |
SF-B1423 vs SF-B1995
Sunny Health Pro II Bike (SF-B1995)
4.5
Successor to the iconic and popular Sunny Health & Fitness Pro Indoor Stationary Cycle Bike. The Pro II comes equipped with even more features than the original. The smooth belt-drive mechanism ensures your cycle workout will be quiet, especially in shared spaces.
The main difference between the Sunny SF-B1423 and the SF-B1995 is the later has an upgraded monitor so you can track valuable ride data speed, distance, time, calories, odometer, rpm, pulse and auto on/off or use the scan to cycle through each metric.
Don't forget though, that by simply purchasing the Sunny Cadence Sensor all your tracking problems are solved. The Cadence sensor connects to the Sunny Fit App which then allows you to track your ride data on your phone or tablet. The cadence sensor is very affordable and I highly recommend it for all users.
The SF-B1995 also has a device holder and pulse sensors to help track your target heart rate and maintain it during extended workouts. The pulse sensors really do set the SF-B1995 apart from the SF-B1423 and allow users to track their heart rate and workout in a safe and effective environment.
SF-B1423 vs. SF-B901
Sunny H&F SF-B901
4.5
The 40-pound chrome flywheel is designed to maintain momentum smoothly as you cycle on the cardio machine. Heavy flywheels support speed, stability, and consistency across your workout.
Use SAVE10 coupon code on Sunny Official Site for 10% OFF !!!
These two models are very similar to be honest, with only one or two small differences in features and tech. The SF-B1423 does not come with an emergency stop brake, and the handlebars are also fully adjustable, which they are not on the SF-B1423.
Now although both bikes are similar, they do vary in price as well and with the price of the SF-B1423 coming in at $309.99 while the SF-B1901 is priced at $329,98. Both the user weight and bike weight is also slightly heavier on the SF-B901, with the user weight at 275 lbs compared to 265lbs on the SF-B1423.
Finally, the weight of the SF-B901 weighs in at just over 102lbs, while the SF-B1423 weighs in at 92lbs.
SF-B1423 vs. SF-B1002
Sunny Health Bike with Heavy 49 LB Chrome Flywheel (SF-B1002)
4.5
The sturdy steel frame, heavy 49 lb weighted flywheel, and 275 lb maximum user weight give this bike a rock solid build that will keep it moving ride after ride.
Use SAVE10 coupon code on Sunny Official Site for 10% OFF !!!
The Sunny Health & Fitness SF-B1002 Belt Drive Indoor Cycling Bike is a higher-priced piece of home fitness equipment, and to be honest, it's a much better bike when compared to the SF-!423.
For only an extra $90,00 you can get a heap more features that aren't just for looks but are incredibly well-thought-out and useful. Firstly the SF-B1002 comes fully equipped with a 49lbs flywheel. You might be asking why a heavy flywheel is so important? Well, the heavier the flywheel, the smoother and quieter the riding experience.
The next feature that separates the two bikes is the weight of the bike. Unlike a road bike, where the lighter the bike, the better, the opposite is true for exercise and stationary bikes. The heavier the bike, the more you can smash the pedals and not have to worry about the bike losing balance or tipping over.
Wrap-Up
Let's be honest, would you ever have thought that an exercise bike priced under $300 could prove to be one of the best bikes on the market? Probably not, right? But guess what? That's exactly what the Sunny SF-b1423 Spin Bike is; an affordable, high-quality stationary bike.
The heavy-duty frame, digital monitor, and smooth resistance system are features you'd expect to see on more expensive well-known brands like Schwinn and Peloton. Not only is the Sunny SF-b1423 Spin Bike perfect for beginners, but it's also an excellent choice for those on a limited budget. The bike is a no-frills version of the brand's more higher-end priced bikes, but as with all Sunny Health and Fitness bikes, the quality is second to none.
So if you're looking for an exercise bike that can deliver long and tough workouts without breaking down or making annoying noises, the Sunny SF-b1423 Spin Bike is for you. The resistance is quiet and, to be honest, very realistic to riding a bike outside.